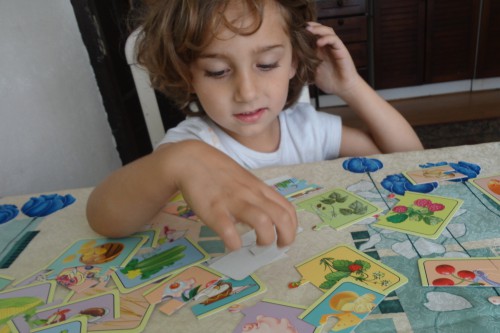 Open Society Fund Prague considers good education to be a fundamental factor in building an active, tolerant, and democratic civil society. For many years, the foundation has provided scholarships to secondary school and university students in order to enable them to attend prestigious foreign schools and acquire international experience. OSF also supports projects by young people and their engagement in public life. The foundation also supports young people from socially disadvantaged families, for instance by organizing internships for Roma students.
OSF has also been a long-term supporter of inclusive education, which involves the integration of disadvantaged children (children from other ethnic groups, from socially disadvantaged families, or handicapped children). OSF provides grants to non-governmental organizations that promote the principles of inclusive education within the Czech educational system and that engage in debate on inclusive education with government, non-profit organizations, and other professionals.
Grant programs:
Inclusive education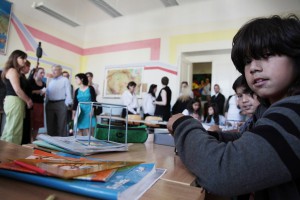 The Czech educational system continues to be defined by a situation in which children are tracked into various types of schools and classrooms at an early age – a selection process that significantly predetermines their future educational and professional life. This system is especially discriminatory towards pupils from other ethnic groups and from socially disadvantaged families, as well as handicapped pupils. Many of the children end up being placed in schools with a limited curriculum, meaning that will be unable to find employment later in life. Roma children, for instance, are disproportionately placed in "special schools." In 2007, the European Court of Human Rights confirmed, in the case of D.H. and Others vs. Czech Republic, that this practice is discriminatory. Another criticized but prevailing practice in the Czech Republic is the removal of children from at-risk families and their placement in institutional care instead of the provision of aid and support for these families.
OSF promotes the transformation of the Czech educational system and considers the concept of inclusive education to be the most suitable tool. Inclusive education involves the integration of disadvantaged or handicapped children into the educational mainstream. Inclusive education takes place in heterogeneous groups in which children are considered equals and where they learn tolerance for differences. At the same time, schools and teachers deal with each child's individual needs. Inclusive education offers benefits both for disadvantaged groups as well as for the other children.
OSF supports non-governmental organizations that promote the principles of inclusive education in the Czech educational system. In 2010, for instance, the foundation sponsored an Amnesty International analysis of the role of the country's administrative regions in the desegregation of Czech schools. It also sponsored the "Education Against Social Exclusion" informational campaign by IQ Roma Servis. OSF also provided funding for People in Need in order to create a qualitative analysis of the SON-R test, a diagnostic tool used by advisory centers. The analysis discovered several critical areas in the testing of children when they enter primary school.
OSF is a member of the "Together to School" coalition, which has been a long-term supporter of implementing the D.H. and Others vs. Czech Republic decision. The coalition's goal is to contribute to the desegregation of the Czech educational system and the implementation of the principle of equal opportunity for all children (regardless of color of skin, origin, or social status) – goals to which the Czech Republic is bound by the aforementioned court decision and by international treaties. OSF also supports the Czech Expert Society for Inclusive Education and participates in discussing inclusive education with non-governmental organizations and governmental agencies. The foundation is also involved in the creation of documents presented to the Committee of Ministers of the Council of Europe, the UN's Committee on the Rights of the Child, and other institutions.
Contact person:
Filip Rameš
filip.rames@osf.cz
Youth engagement in public life
A fully-fledged democratic society is based on the coexistence of different opinions and attitudes. This includes the voice of young people, who are a source of new and innovative ideas and who will participate in determining the direction taken by society in the future. OSF supports involving young people in public life and promotes their engagement in citizens' initiatives. In doing so, it pays extra attention to young people from socially disadvantaged groups.
Support for young people in general
The foundation provides support to low-cost innovative projects by people aged 26 or younger. OSF helps them realize creative ideas that offer something to young people in general while also representing a start to their professional career. Support is not limited to any specific subjects. In fact, it is open to all interesting ideas from the young people themselves.
In 2011, OSF organized the first ever Open Society Summer Camp for fifteen students from the Czech Republic and Slovakia. During the summer camp, which focused on the situation of the Roma minority, participants came up with their own project proposals for improving relations between majority society and the Roma community in their region. Selected projects will receive funding from OSF.
Support for Roma students
OSF also supports initiatives by young Roma, helping them to acquire personal and professional experience. For instance, the foundation funds short-term internships for Roma students at the British embassy and the British Council in Prague, and is planning to expand these internships to other embassies in Prague.
Scholarships
Open Society Fund Prague has provided long-term support for Czech citizens to acquire first-hand experiences abroad. Since its very beginnings, the foundation has provided and organized numerous scholarships, internships, and travel grants. Today, OSF provides scholarships for secondary school and university students and offers internships for teacher trainees at private schools in Great Britain.
The scholarship program offers young people the possibility of studying at prestigious foreign schools, learning the language and acquiring invaluable experiences from living in a foreign culture and society. OSF thus contributes to the growth of talented young people, some of whom who may go on to become leading individuals in Czech political and social life or may end up working for international organizations. The scholarship program also encourages students to tell their foreign schoolmates about life in the Czech Republic and to share their experiences with their classmates at home upon their return. The program thus contributes to greater intercultural understanding.
Scholarships for secondary school students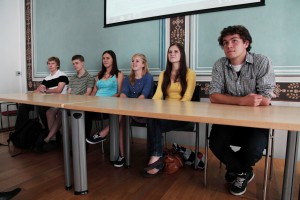 OSF provides scholarships enabling first- and second-year students at Czech secondary schools to spend one academic year studying at private schools in Great Britain and the United States. These are prestigious schools that, in view of their high tuition, Czech children would otherwise be unable to attend.
In order to realize this program, OSF collaborates with The Headmasters' and Headmistresses' Conference (HMC) and with American Secondary Schools for International Students and Teachers (ASSIST). The program also receives funding from Pioneer Investments and from individual sponsors. OSF organizes not only the scholarship applications process, but also maintains a network of graduates and organizes meetings and reunions.
Over the course of the program's existence, more than 3,500 secondary school students have applied for scholarships. Nearly 200 students were selected to spend a year at secondary schools in Great Britain and the United States. Czech students have been exceptionally successful at these schools, and are subsequently admitted to prestigious foreign universities such as the London School of Economics, Oxford, Cambridge, Princeton University, Syracuse University, Taft University, and Harvard University. Twelve graduates from this program have graduated from or are currently studying at Oxford University.
In the 2010-2011 academic year, 78 students applied for scholarships. Seven students received full scholarships and four received partial scholarships for schools in Great Britain. One girl is participating in a two-year program in Thailand, and eight students are currently studying at schools in the United States.
Scholarships for university students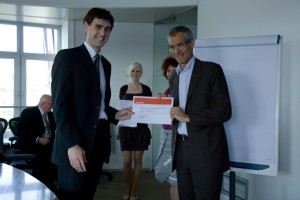 In 2005, OSF joined with the international consulting company Accenture to establish the Accenture Fund, which provides scholarships to students of technical and economic departments at Czech universities. Thanks to these scholarships, upper-level students and postgraduate students can spend three to 12 months studying at prestigious foreign universities.
Since the program's founding, some 290 students have applied for scholarships, with 56 students receiving scholarships worth a total amount of CZK 2,633,750.
In 2010, 31 students applied to the program, 10 of whom were awarded scholarships worth a total amount of CZK 279,600.
Internships for teacher trainees
Since 2002, OSF has collaborated with The Headmasters' and Headmistresses' Conference (HMC) to organize a program for recent graduates and final-year students from teaching departments to spend one year interning at British private schools. Since then, 32 Czech teachers have participated in the program.
The 2010 winner of the applications process was David Ondruška, who went on to complete an internship at St. Bees School in Cumbria.
Contact person:
Zdenka Almerová