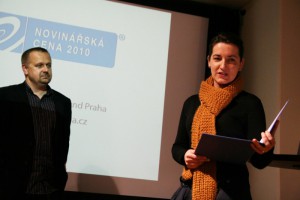 Journalism is of extreme importance for the functioning and growth of a democratic society. For this reason, in 2010 OSF launched the annual Journalism Award as a public recognition of excellent reporting. The award is presented in partnership with the Nadácia otvorenej spoločnosti / Open Society Foundation Bratislava, which has organized a similar competition in Slovakia for several years.
The Journalism Award recognizes journalists for excellent work published in the preceding year that in some outstanding way addresses issues facing contemporary society and thus contributes to improving society. In the long term, the Journalism Award's objective is to help improve journalistic professionalism and quality. For this reason, the award emphasizes investigative journalism, which acts as a kind of watchdog of democracy.
The competition is open to journalists from all forms of media – print, electronic, nationwide, and regional media. It recognizes a specific report or series of reports, meaning that the winner can be a renowned journalist just as well as a young beginning reporter. The entrants in the various categories are voted on by an independent jury of experts consisting of well-known journalists and representatives from the worlds of academia, the arts, and non-governmental organizations.
More information (in Czech language) on the competition may be found at www.novinarskacena.cz
Contact person:
Michael Adamec
michael.adamec@osf.cz