The Czech OSF was founded in 1992 and since the very beginning has been member of the Open Society Foundations international network. The goal was to re-establish democratic principles in our country, contribute towards the development of a free society, transparency and equality of all people indiscriminately. In 2012 the Czech branch, along with other Central European foundations, left the international network and has been working independently since. It further pursues its original goals though, advocating democratic values, driving positive changes and promoting open society.
The mission of the OSF is to support vibrant civil society and through it to develop a state where everyone has equal opportunities and can engage in events in his/her surroundings. We are not afraid to open sensitive and neglected topics and, together with our donors, look for pioneers to develop such topics further.
Who we are:
we are one of the largest foundations in the Czech Republic
we have over 26 years of experience
over the years we have supported more than 9,500 projects at a cost of over CZK 1.78 billion
What we do:
we promote systemic changes at the national level and contribute towards solutions for specific situations in cities and municipalities
we focus on the current needs of the non-profit sector and are not afraid of controversial and neglected topics
we fund dozens of NGOs and implement our own projects
What we strive for:
transparent and efficient public administration
equal opportunities to education for all children
high-quality Czech journalism
building the knowledge and skills of the civic sector so that it is able to defend its interests effectively and expand its supporter groups.
It shows that OSF Prague work is still needed. Many politicians and public figures are abandoning democratic principles and, according to a recent STEM survey, only 30% of young people believe that democracy is the best form of government. We want future generations to grow up in an open and democratic society. That's why the Foundation is still focusing on the development of the rule of law and democracy and on reducing corruption. We support free access to information and the participation of citizens in public affairs. We promote equality in education and in accessing the opportunities of the world today.
In two programme lines we focus on tackling current issues:
Our programmes and projects are part of two programme pillars dealing with the current problems of the Czech society:
One of the problems of the Czech society is the persistent discrimination against minorities at the level of education, employment, housing or health care. We have included activities aimed at promoting justice and equal opportunities in the society under the programme pillar called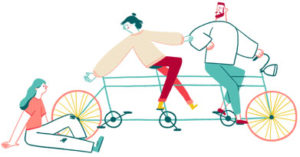 Jedním z problémů české společnosti je přetrvávající diskriminace menšin na úrovni vzdělání, zaměstnání, bydlení či zdravotnické péče. Aktivity zaměřující se na prosazování spravedlnosti a rovných šancí ve společnosti jsme zahrnuli pod programový pilíř s názvem Férová společnost.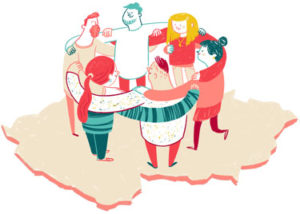 Druhým z problémů, kterým se zabýváme, je krize důvěry v hodnoty liberální demokracie. Česká společnost se přestává starat o svou svobodu a demokracii. Programový pilíř Živá demokracie pomáhá tento stav řešit a podporuje zapojení občanů do rozvoje našeho státu.
History of OSF Prague
The international network Open Society Foundations, of which the Czech branch was a part until 2012, was founded in Eastern and Central Europe by the American investor and philanthropist George Soros. The primary goal of the organization was to kick-start democratic principles in post-communist countries and contribute to the development of a free society.
In the non-profit sector, the foundation brought to the Czech Republic concepts that had worked elsewhere but due to the 40 years of the Communist era were unknown in the Czech Republic. Thus we stood at the birth of palliative care and medicine in the Czech Republic, the concept of volunteering and information sources for the non-profit sector and donors. We have made it possible for professionals, doctors or company managers to study and work abroad.
Our work has consisted of searching for good ideas and subsequently investing in their development. In the first few years we supported the One World festival or the pilot projects of the People in Need organization focused on field social work in socially excluded areas, as well as the organisations Transparency International, Oživení, Ekologický právní servis (today Frank Bold), Liga lidských práv (League of Human Rights) or Fórum 50 %.
After the Czech Republic accession to the European Union, we expanded our activities to support quality education accessible to all children without distinction and to the recognition of high-quality journalistic work. We promote the concept of the state as a transparent and efficient service to citizens.
George Soros's support ended in 2012 and we left the Open Society Foundations network. There are countries all over the world in more need of help than we are. We became a completely independent foundation and since 2012 we have been seeking funding for our further operation ourselves. With diversified resources, we keep on advocating democratic values, driving positive changes and promoting open society in the Czech Republic. We also play the role of innovators and supporters of active people who influence events both in their immediate surroundings and their country.
Everything we do and have achieved has been in cooperation with our partners and organisations which want to improve the lives of people around them and cultivate civil society.
If you'd like to help us in this, please contact our fundraising department
Chcete-li nám v tom pomoci, kontaktujte naše oddělení fundraisingu.