The Blago organization in Uzhhorod is still working hard to help the youngest children and their families who had to leave their homes because of the war and found themselves in insecurity. In the more than three months since the conflict broke out, it has provided shelter and safe haven to more than 600 people, mostly Ukrainian Roma. The Open Society Fund Prague has organized an online fundraising campaign to help Roma refugees in need and decided to send the profit to Blago. The collection closes on the 30th of June. Do not hesitate to contribute, the Roma refugees need your help.
In the first weeks after the outbreak of the war, many Ukrainian civilians found their lives in danger as a result of the invasion by the troops of the Russian Federation. Quite a few of them started to move towards the west of the country. The Uzhhorod-based organization Blago, which in peacetime focused on working with children and families of predominantly Roma nationality, thus became a natural destination for some Roma refugees to wander to safety. They were later joined by Azeris and others. Families from Sumy, Odesa, and Debaltseve also arrived at the end of May.
First basic needs, then health care and education for the children
Initially, food, medicine, hygiene items, and other humanitarian aid were most needed. Next, funds were used to buy beds, bedding, kettles, microwave ovens, and other equipment that allowed the Blago Community Centre to be converted into shelter housing. Once the situation had stabilized a bit, Blago focused on providing health care for children and the elderly. Subsequently, the main focus was on educating the children and working with them. Currently, they use donated funds mainly to provide food for the refugees, pay rent and utilities, and maintain the premises.
We are exhausted but happy to be able to help thanks to you
"We are tired, we work from morning to night, and sometimes our brains refuse to work. But we still thank God for giving us the strength to keep working. Above all, we thank you for your support. Without people like you we couldn't help, we couldn't take care of anyone, just nothing. Thank you very much!" says Eleonora Kulčar, director of Blago.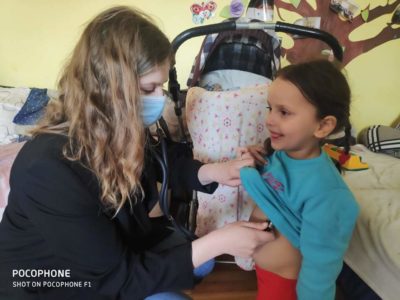 Donations to the collection are only available until the end of June 2022
Thank you to everyone who decided to help those most at risk. That is, families who often lived in extreme poverty before the war, or families from marginalized communities who are not only affected by war but often also by discrimination. Funds are still needed in Blago. Unfortunately, the war is still in full swing in Ukraine, and running the improvised shelter in Uzhhorod is costly. Therefore, we have decided to help Blago secure more regular support from Czech humanitarian organizations and at the same time close our fundraising. Donations are only available until the end of June. Your donations are still very much needed!