The Stronger Roots Program
In the Stronger Roots Program, we aim to increase the resilience of civil society organizations and their networks, strengthen their social capital, and embed them in the communities and societies in which they operate. 
Since 2019, the Open Society Fund Prague has been working with a Czech think-tank Glopolis, Open Society Foundation Bratislava and the Hungarian NIOK Foundation in a consortium to implement the Stronger Roots Program and jointly strengthen the roots of civil society in the Czech Republic, Slovakia, and Hungary. The program is funded by the European Union from the Citizens, Equality, Rights and Values (CERV) programme.
The Program empowers civil society organizations and networks of different sizes, geographical scope, and thematic focus (environment protection, education, culture, children & youth, social services, etc.). It builds their capacities through a combination of financial, expert and peer support (including mentoring, consultancy from experts, training and experience sharing sessions) and helps them build strong communities of donors, volunteers and other supporters, as well as strengthen their collaboration with divergent partners. Learn more about the Stronger Roots Program. 
New Call for Proposals
In April 2023, the Stronger Roots consortium announced an open Call for Proposals targeted at civil society organizations and their networks from Czechia, Slovakia and Hungary. For more information about how to apply, please visit the Stronger Roots webpages in Czech, Slovak and Hungarian languages.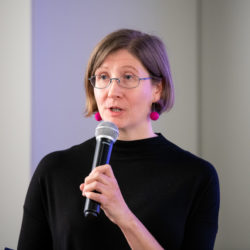 Marie Peřinová, Program Director
Marie.Perinova@osf.cz
THE STRONGER ROOTS CONSORTIUM MEMBERS
Funded by the European Union. Views and opinions expressed are however those of the author(s) only and do not necessarily reflect those of the European Union or the European Education and Culture Executive Agency. Neither the European Union nor the granting authority can be held responsible for them.